The four horsemen circle overhead and the cold draft of austerity blows ever harder through the letterbox of the populace (this allegoric soup is apparently known as meta-phor) and people are thoroughly hacked off. Riots, looting, occupying places, demonstration; the citizens are taking to the streets. These are vibrant times of protest and dissent; there is solidarity, a feeling of unification, a common cause and belief in change. Together, shoulder to shoulder, fighting for right against tyranny and oppression.
Yet even as Occupy 2.0 is regrouping in the tunnels, Occupy Original went on display in the Berlin Biennale VII. Apparently Joni Michell wanted to say; Take all the protesters, put 'um in a protester museum. Charge all the people a dollar and a half just to see 'um. Fortunately she couldn't get scanning permission for that aural carbuncle and the lyric was changed to trees. Thus leaving the concept of annoyed hippies in cages for people to pay to look at still on the books as an unrealized project: until now.
Oh yes, roll up, roll up, ladies and gentlemen, walk amongst them (actually it's more like a safari) and ask them questions. Please don't feed them but you can take photos, it's the Occupy Experience. And a weird sight it is: the view into the room is from a raised viewpoint and the light-coloured floor make it look as though the movement has taken up residence in the shadow of the Magic Roundabout. All is calm and nice stencils are cut, meanwhile, outside the 99% get dragged from their tents - if it starts raining they can pop in for some tea and borrow some dry shampoo. A scene not totally dissimilar to this one is no doubt in Free Willy where some wild whales come and look at the poor captive whale and make mournful wails.
There is some interesting stuff here: Khaled Jarrar, State of Palestine passport stamp makes demands on the viewer, as does Antanas Mockus Blood Ties piece. This required the participant to commit to cutting down on their drug intake to try to make a difference to the situation in Mexico. Literally a contract in blood with blots and smears of previous partakers lined up on the wall behind.
Elsewhere, how have our troubled times be captured by the class war artists at the forefront of this discontent? Surely across the globe they will have snatched up pallet knives and chisels, anxious to capture the passion of this grassroots movement, caught up, no doubt, in the fervor of the times, overcome, perhaps, by the conviction they see around them, and driven to capture, to the extent of their talent, these epic times, to preserve, not just the images but the emotion of these fleeting days before lethargy overcomes us, the ringleaders are rounded up and their files stamped 'ruin life: no reprieve' or all the undercover policemen accidentally have sex with each other.
Then, collapsing, post-coital and sweat-drenched in front of this document of our times, the everyday pressures of daily, c.21 living come flooding back to our hero - hey, those fat markers won't buy themselves. So our agitprop documenter is forced once again to take his very soul to market, produced by the people and for the people, yet undermined by the system against which he stands, oh the indignity, up it goes on that uber-bazaar of Mammon; Ebay.
Or not so much actually. Either the artists are bartering their work locally, exchanging it for acupuncture and plumbing lessons or they have bequeathed it, as karma dictates, gratis, to the cause, for there is precious little out there documenting recent unrest. A few novelty mugs and keep calm parodies but the art category is turning up zilch. Search looting, London riots, occupy London and surprisingly little show up (apart, of course, from an increasingly dated-looking Banksy selection of smiley-faced, riot police rats with balloons and flowers).
A few bits and pieces - the UK site offers a 2012 Occupy London calendar; 'an incredible three months in social and political history. £5 + £2.99' and from the US my favourite - 'Occupy this! A signed photo male nude pinup sexy gay art deco $30'. Although to be honest it weighs more on the 'male nude pinup sexy gay' side than the 'art deco'. No, it's slim pickings for the art historian looking to keep an archive of social history current, nevertheless I did find these three examples:
?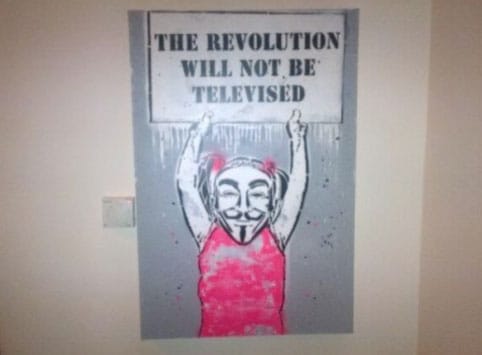 Title: Occupy the world - revolution not televised - pink edition
You are bidding on a signed hand painted canvas board by controversial outsider artist "cunni".
The biggest tsunami the world has ever seen is about to hit! It will be known as "justice and freedom". Together we are strong! Fight the power! Viva la resistance! Viva la revolution!
Cunni's work is selling around the world in particular the USA. The UK market starting to take notice with several pieces been seen in several shows around London. His macabre sculptures and original canvasses fetching up to several thousand pounds
A highly talented, controversial artist whose images are causing quite a stir. A rare opportunity to own a genuine hand painted original direct from the artist. Signed on the rear. Comes with c.o.a. and a free banksy postcard
£400
?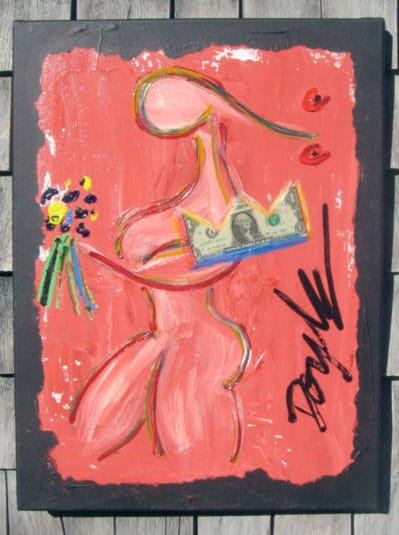 Title: Occupy wall street viii
Rare, valuable investment-grade painting.
Significant piece of America's social and artistic heritage.
Contemporary painting of important social topic
By well-collected American artist, Kevin Doyle.
£52.22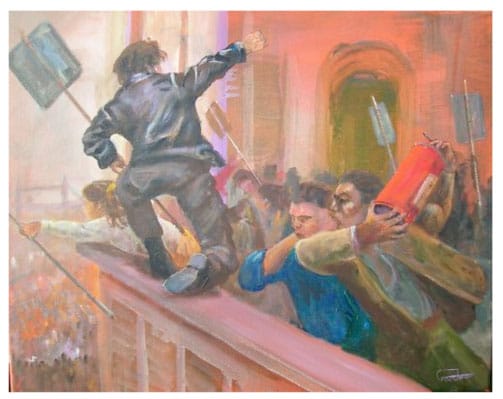 Title: Revolting
Controversial new Goodman original painting on canvas "revolting". This disturbing painting capturing the student riots in London. The painting has adhered to classical renaissance standards in as much as the famous French neoclassical painter Jean Ingres stated when he was asked what was the most beautiful thing he had ever seen in painting - juxtapositioning 2 colours almost the same!! The fire hydrant and the background red are approximately the same. It can be seen there is beauty in this juxtaposition. Gustav Gore excelled at juxtapositioning huge figures with small figures and recessioning with Tower Bridge.
£1200 (but postage is a snip at £4.50)
Adrian Lee